Posted on February 11th, 2021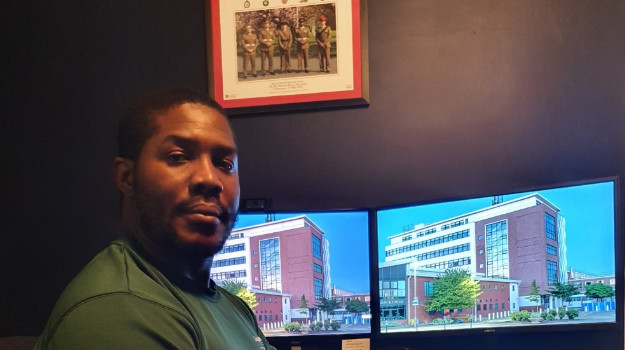 For 10 years Jesse Jackson served as a gunner, before spending two more taking young 18+ army recruits through basic training. On discharge, he joined Loughborough College as a public services lecturer in September 2018. Interview by Richard Doughty, originally published on AoC Jobs website.
How did you get into FE lecturing?
I stumbled into it, to be honest. I left school at 16, tried college for six months but then opted to join the Army. I resat maths GCSE, rose to sergeant and after 10 years in artillery spent my final two years training young people at Army Training Centre (ATC) Pirbright, a move that kindled my passion for teaching. I'd begun considering doing teacher training at university, when an instructor on a resettlement programme for those leaving the army told me about the new Further Forces programme, based at Portsmouth University and set up to help former service personnel take up teaching jobs in further education.
Why public services?
My army experience, my training role with young people at Pirbright and my leadership qualifications gained in the Army made specialising in public services teaching a natural progression. What do you enjoy most about the FE sector? FE is the most unsung transitional period for young people. As a teacher I've witnessed young people going off from secondary school to find their way in the world, I'm able to encourage and coach them and I see them transform from child to young adult.
How has Further Forces helped you move into teaching?
My journey started in mid-2017 when I first heard about Further Forces – in 2018 I got in touch again and they talked me through what was involved. I was only in the second cohort to go through their programme (I'd already gained the required English GCSE at school and resat maths in the Army to become a sergeant). I was given six workbooks to go through to understand what would be expected of me as a teacher – they were really informative. Once I'd completed the workbooks over several months, I enrolled on a level 5 certificate of education/foundation degree course at Portsmouth University.
During the two-year course, you learn how to teach, plan, deliver effectively, communicate and improve practice, and you study pedagogy. I was fortunate as I was working at Loughborough on a sessional (now full-time) contract which enabled me to get all my teaching hours done. If you are not in a teaching job, you need to seek voluntary work that lets you notch up 100 teaching hours. I went full-time in 2020 around the time I finished the course, though that's not typical. On completing the course, you can then go on to do a full degree on any subject, not just teaching.
I was well supported by Further Forces throughout. You have to attend around 10 two-day, face-to-face support sessions at Portsmouth during the course but my teaching commitments meant I had to complete my course remotely for the final 16 months. I only got paid for the hours I worked on my then sessional contract. Portsmouth came up with ingenious ways to observe my four obligatory teaching sessions remotely. My tutors were ahead of the game in remote learning. I would not be teaching now without the support from Further Forces and my college.
What do you actually teach?
I teach the Pearson BTec level 3 extended diploma course is really directed at young people who want to work in any of the national public services covering fire, police, ambulance, and the armed services. I also course-manage and teach the one-year level 2 study programme that takes students who need to resit maths and English GCSEs; they gain a level 2 diploma in public services and then usually progress to level 3. The level 3 syllabus is broad-specced, is not tailored to any one service and contains mandatory and optional units. It aims to build up knowledge of all the public services, covering units such as government and policies, command and control, employment, physical training in uniformed services, teamwork and leadership, discipline and custodial care.
What's your main role?
I plan all the units on the level 2 study programme and their delivery, write reports on every student, contact parents, hold open events on how to apply, and maintain good behaviour among students. There is also considerable admin work to complete each week. My weekly teaching time of 21 hours is split equally between L2 and L3 in three- hour lesson chunks (with a break in the middle) over four days. The college has given me Fridays free to study for a one-year Loughborough degree in leadership and management to tie in with my army experience and career progression. I get course fees part-sponsored by Loughborough College which is very supportive – I pay the rest – and study roughly 2-3 hours a night Monday-Thursday, including a few hours over weekends. It's hard work but it's my choice!
What's a typical day?
Precovid, I'd arrive at college between 8-8.30am, discuss activities with colleagues, then take the first lesson from 9-12 first lesson, an hour for lunch, then another session from 1-4pm, and then admin, disciplinary matters, calling parents, etc, until 5pm.
What's have been a key challenge?
Adapting to the civilian environment. The way business is run in civilian life is so far removed from the army. You can't prepare for that; you have to learn on the job. Questions arise like how parents treat teachers, what's expected of you, how students speak to you. I also didn't realise how much admin was involved in teaching, although you get lots of admin in senior army roles.
How do you overcome difficulties?
I have a great support network; it's fundamental in overcoming stresses irrespective of what job you have in civvy street. At home, I can tap into family support at any time. At college, my department is extremely supportive to me in my transition and has helped me through the process. They show me the ropes and advise when I've gone wrong. Managing relations with parents can sometimes be tough – parents don't have any say in a military environment! In a class of 20+ you have to work with at least 20 parents. You can try your hardest to deliver a good product, ensuring students are motivated and have enough resources, but some parents don't recognise that, even though you know you've done all you can for your students and you genuinely care.
Any advice on being a newbie teacher?
Delivering your first lesson can be a bit nerve-wracking but don't be surprised at the joy of being with your students in class, seeing them engage and then develop over the year as you get to know their characters, needs and wants. Don't under- or over-prepare. If you fail to prepare, be prepared to fail. Know your subject and have all your materials close at hand; otherwise the students will suss you out. Equally, do avoid information overload – students can only take in so much – and adjust your language accordingly. Don't be too rigid and do adopt a growth mindset.
What do students like studying most with you?
Physical training (!) and units on discipline, teamwork and leadership that get them to learn about themselves. And don't shy away from describing your own life experiences – the students love to listen.
Anything you are proud of?
Seeing my first cohort of students in 2018 about to leave this year and the young adults they've become.
Personal qualities/skills needed for the job?
Be well organised, good at admin and technology, and highly self-motivated. There's no need to be a people pleaser; just show a real desire to see others succeed.
What army qualities do you bring to your job?
Timing, discipline, courage, selfless commitment, being a team-player, respecting those around me, especially students and colleagues and – hopefully – supplying some good banter!
Ditto qualifications?
The longer you are in the Army, the more qualifications you can get. You'll need English and maths grade 4 GCSE, plus a minimum level 4 in some form of teaching or management or be working towards it – I left the Army with levels 3 and 4 in leadership and management.
What spurs you on to work each day?
A genuine desire to see my students succeed and knowing colleagues in my team think the same.
---
Further Forces is an Education & Training Foundation programme supported by the Ministry of Defence, the Department of Education and the Gatsby Charitable Foundation. Its aim is to support anyone leaving the Military to bring their valuable experience, technical knowledge and skills into teaching in Further Education (FE).
As part of the fully funded training, Service Leavers are supported by a subject-specialist mentor, in addition to a tutor and college manager. This mentor is independent of both the college and tutor, so their focus is solely on supporting the individual Service Leaver in their training and teaching. To find out more, but with no commitment, contact Further Forces: info@furtherforces.org.uk.
---